previous: Comparisons
next: Design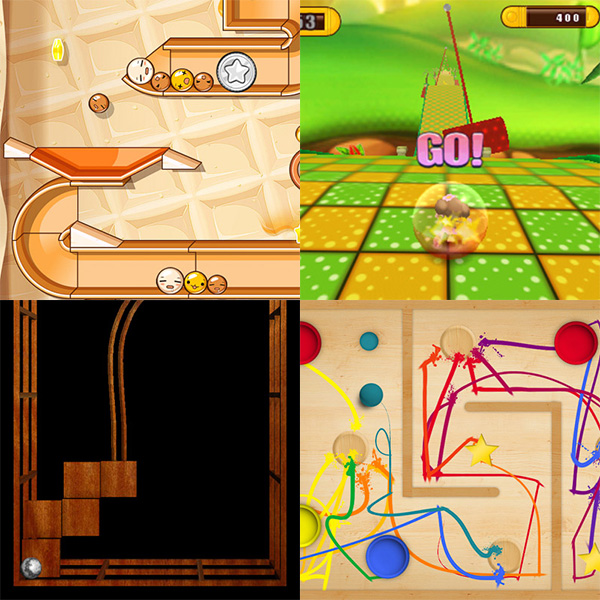 Comparisons - 2
The other day I began writing about what was informing the basic design of my ball-rolling game. This is part two of a discussion of some other games in the genre.
Labyrinth Lunacy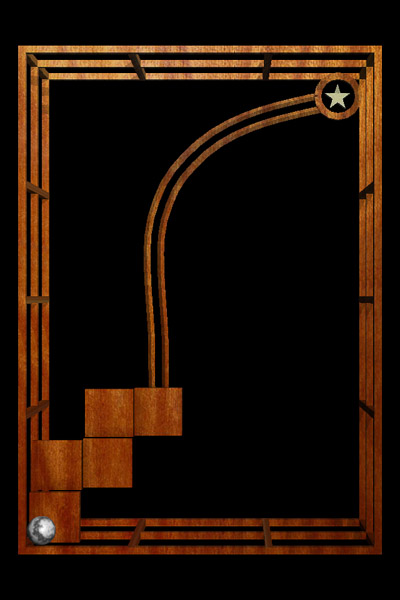 This game [website, with video] was created by Christopher Barry. It stays the closest to the challenge of a traditional wooden marble game of the ones that I played. Even the interface which lets you select a level to tackle is manipulated by rolling the ball to a goal. It's based, again, on the same premise that is used by physical marble games and Super Monkey Ball: simply get to the goal, if you can.
Of the four games I tested, this is probably the one that I found myself having the longest play sessions on, with some light addictiveness to it. It wasn't irresistable for me, but does get a number of things right.
High Points
Theme: The game has a great, very "wooden" feel. The textures, lighting, and sounds all make a convincing impression that you're manipulating an actual ball maze.
Performance: The framerate seems to be very good, resulting in very smooth, fluid motion, aiding significantly with the realism of the game.
Control: The input processing seems to be quite rapid and accurate as well. None of the other games felt quite as realistic as this one, for me. I'm curious whether the developer used an engine or not, and also what language it was coded in.
Inventiveness: The level design was often clever, and the developer made good use of the fact that he could work in 3 dimensions rather than simply tipping a plane.
Simplicity: There was no design clutter of a time or score, and when you fell off (again and again) The ball was simply replaced at the start, allowing you to resume immediately, without wasting time or giving negative feedback.
Low Points
Difficulty: The level of difficulty of this game was extremely high at times, often in very frustrating ways. For example, it repeatedly presented you with an array of gaps to probe, most of which were just a little to narrow to pass the ball. So the player would need to very carefully work his way around, always right on the edge of falling off, to try and find the one which was passable.
Slope: It was often hard to inspect the level—for example, ramps to elevate your marble were a common occurrence, but there was never any obvious indication that the surface you were to pass through was actually inclined upwards. This was confusing.
Visibility: In another example of borderline malicious level design, some levels would intentionally obscure the path or the ball so that you didn't know where you were, or where to go.
Feedback: The "success" sound used was simply a few seconds of Beethoven's 6th symphony, which felt like, "can't afford to license music, so I'll just use something short written by someone who died a long time ago." It was a strange feeling for the game.
Blendamaze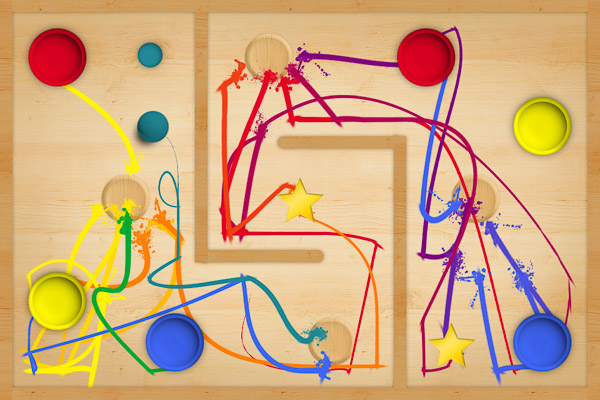 Blendamaze by Borderleap adds a neat, novel idea to the mechanic of ball-rolling: it asks the player to match colors by dipping the ball in paint buckets, such that the ball takes on a color which matches a specific target. By doing so, the correct path through the maze becomes more complex than the level will appear at first.
Additionally, each paint pot is linked to a distinct place to reappear on the screen, so there's a bit uf unpredictability about what will happen when you get your color from a variety of different options. But it's learnable, and the designers included a short animation where your ball returns before being playable; this gives the player a chance to decide which way they want the surface to be oriented when the game resumes in a second.
High Points
Concept: I loved the novelty of the paint-bucket mechanic. It's simple and intuitive, and has a side effect of teaching the properties of mixing pigments.
Fit & Finish: Like the other games I inspected, Blendamaze has a high degree of polish on it. I personally happened to prefer the look & feel of the game more than all of the others; it is realistic in terms of physics and has a nice traditional feel, but isn't slavishly confined by that realism. The interface elements such as buttons, menus, and the like, are done in a more traditional touchscreen style. Super Monkey Ball felt like it wanted to be on a console; Labyrinth Lunacy simply used the ball-rolling mechanic for its level selection. Blendamaze, on the other hand, embraced the fact that it is a mobile game.
Painting: They implemented the very same "paint with rolling ball" mechanic that I was originally interested in prototyping, and beautifully at that. It's a great touch.
Low Points
Interest curve: In just a few words, the interest curve represents how engaging an activity is as a function of time[1]. While I enjoy Blendamaze, the activity seems to get stuck in a repetitious curve. I need to continue to progress through the game and see if they introduce new mechanics.
Standards: Similar to Rolling Coins, the success condition of Blendamaze is a matter of degrees—in this case, how closely you match the target color. In this case, it can be frustrating to very nearly miss the requirement.
[1] Perfect example of an interest curve: this clip is of the world's greatest juggler paying three neighborhood kids to watch him set the WORLD RECORD for longest time keeping 7 balls aloft. It's amazing! For about 12 seconds. But setting the world record takes 50-60 times longer. So the video makes light of how incredibly dull it is to set this record. Contrast it with footage of an actual performance by the same man, where he changes the tricks every few seconds for the same length of time. One interesting thing to note is that the performance ends with a big finish, where he appears to "just" juggle 6 or 7 clubs at the same time for a few moments. Apparently, this is one of the absolute most difficult feats to accomplish; but earlier in the show he performs numerous tricks that look harder.