previous: investigations
next: gulfed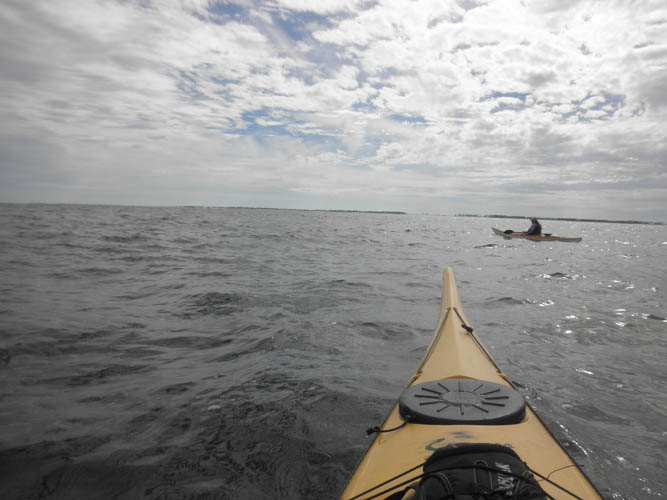 paddling
I met Rachel in the parking lot of the visitor center of the National Seashore. I'd decided to hire her for a one-on-one paddle tour out to Horn Island, several miles off the coast of Mississippi. The island is uninhabited and in a relatively natural state, and the only access to it is by small boat--there is no dock for larger craft.
Right off the bat, we gabbed away happily, getting to know one another. By the time the boats were in the water, we felt like old friends. Rachel is deeply informed about the gulf coast, where she's spent her entire life. Her life has been based on and around the water, and it really showed. It felt great to be able to have such trust in my guide.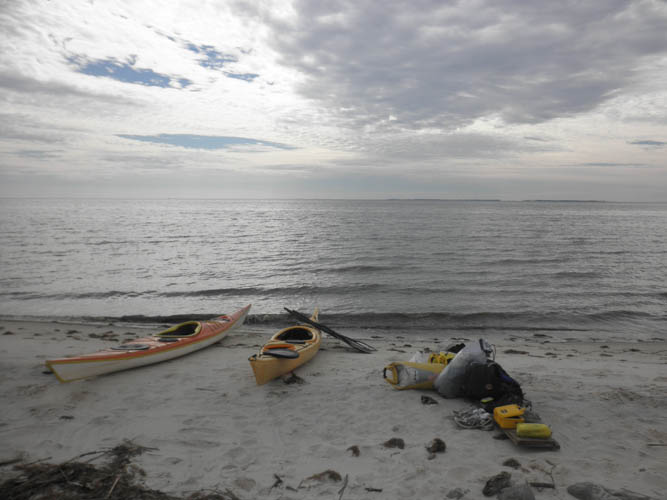 From the shore, the barrier island was discernible in the distance. But it proved to be much farther away than it appeared; we (I) needed several hours of continuous paddling in the mild chop of the channel in order to reach it. Even when we started to see individual trees on the far shore, Rachel announced that we were only about halfway.
I had to work on my form, which was not great--my years of climbing tended to bias me towards too much arm work, and not enough torso/core. I also tend to leave the paddle in the water too far back, essentially making a continuous set of turns instead of simply pulling the boat forward. That said, there was a mix of current and wind constantly pulling us off course. By the end of the day, I had learned to trick myself into more efficient strokes by focusing on my feet on the (stanchions?) instead of the paddle in the water.
Once we reached the island, it was too late in the afternoon to portage the boats into an interior lagoon and paddle along that, so we took a walk along the beach, chatting further and looking at the various shells, a passing stingray, and an interior lagoon, one of surprisingly many. I joked about what a cute and cliché date we were having, and she responded that many of her most magical moments had been shared with strangers. "What an interesting phenomenon that would be," I thought. When flying, it's often struck me how you can spend an entire day surrounded by masses of people, and maybe not really exchange a meaningful word with a single one.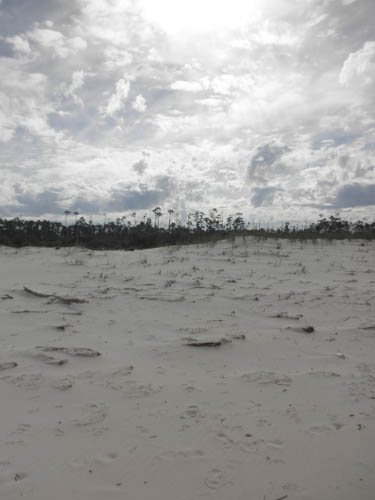 By the end of the return trip, I think that we were both looking forward to pulling the boats out of the water. Rachel said that we'd gone something like 8-11 miles roundtrip (depending on how far the wind blew us), a number I thought was rather surprising, but very pleasant. An overnight stay would be better for the explorer in me, but the athlete quite enjoyed the sustained workout.
So far, I'd say that the day paddling off of Mississippi has been one of the true highlights of my trip, well worth the extra time and money. When I pulled into the seashore, I'd expected to stay for 2-3 hours, tops, to take a swim in the Gulf of Mexico. Instead, I'd stayed for 3 days, made a wonderful new friend, and gotten to go see an island in a way that few do. Now this is how to travel. What a lucky person I've been.
If you happen to find yourself in the southern Mississippi or western Florida area, you can find Rachel at South Coast Paddling. Obviously, it goes without saying that I can't recommend her enough.