previous: mcdonald
next: moonshine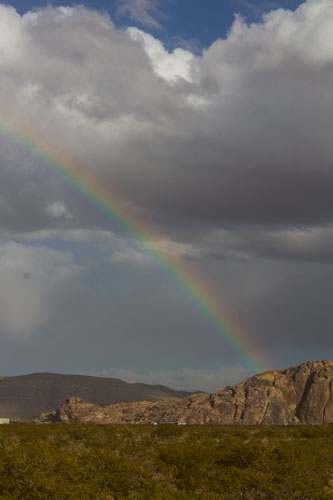 hueco
In Spanish, 'hueco' means 'bowl, depression.' In the case of Hueco Tanks, it refers to holes in the granite-like rock which were frozen into the magma as it cooled underground, unable to escape to the surface. Some of the huecos face the sky, and hold water long after the desert has gone dry after a rain. Because of this, the small outcrop of rocks has been a small, fragile oasis in the Chihuahua desert for thousands of years. It's gathered wildlife, prehistoric settlements, and now, every North American boulderer able to make the pilgrimage. This has been my third visit, but first in just under a decade.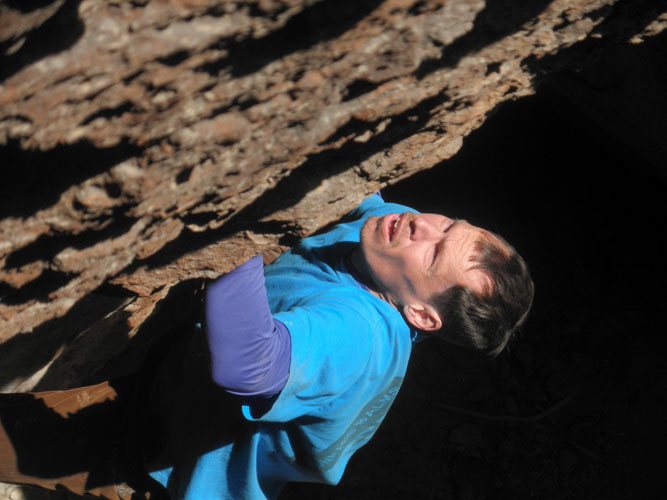 My new friend C. ascends "French kiss from grandma" on East Mountain
Hueco has some of the most gymnastic, varied features that any of us have ever seen in natural rock. There's virtually nowhere else (in North America, at least) which can compare with the incredible variety of motions and holds here. It's intoxicating—and humbling. On my first day of climbing, I went back to the problem "Nobody gets out of here alive," a five-star classic V2. (V2 is the difficulty, quite easy, and stars refer to the aesthetic/fun rating.) Years ago, I'd done it with ease, but on this visit I spent my whole first morning unable to pull the start move. What was wrong?
I grew frustrated and then furious with myself. There was no way I should be struggling with this! I'd warmed up, and I'm not that flabby these days. But it takes a while to get used to the rock again, and also I'd skipped breakfast because I lined up at the front office promptly at 8AM in order to ensure my spot on the mountain. The next day I came back with a belly full of pancakes and sent the problem with ease.
Most of the time that I was bouldering, I didn't bring my camera. Although I would have loved to take lots of pictures, hauling the gear everywhere through narrow passageways and over rough scrambles is pretty inconvenient. And mentally, I wanted to be in one mindset or the other, not messing up both climbing and photography. But I did take the camera along a few times.
I stayed a few days in the park itself at a campsite, but when I lost my site to an incoming reservation, I moved out to a climber-oriented commercial area nearby, where I'd stayed back in 2004. I'd heard complaints about it now, "too expensive" being the main one. But for a solo climber, it was actually $2/day cheaper than the park. And there were some other very serious benefits of staying at the rock ranch: indoor cooking, more friends to make, and a big ol' bonfire on most nights. I wound up being so happy there that instead of staying just a night or two as originally planned, I stayed about 10 days.
All in all, I hung out at Hueco Tanks for almost 2 weeks. It was one of the more expensive day-to-day places to visit, because I hadn't gotten an annual pass to the Texas park system—that's a mistake I won't make again. But everything there was so pleasant and the rock so outstanding that I could easily see myself making a future trip to go just to Hueco and stay for an entire season, getting strong.
I did find myself getting stronger while I was there. On my last day of climbing, I happened to visit "Nobody" again, and floated it several times. Quite an improvement from day one!