previous: frustration
next: condor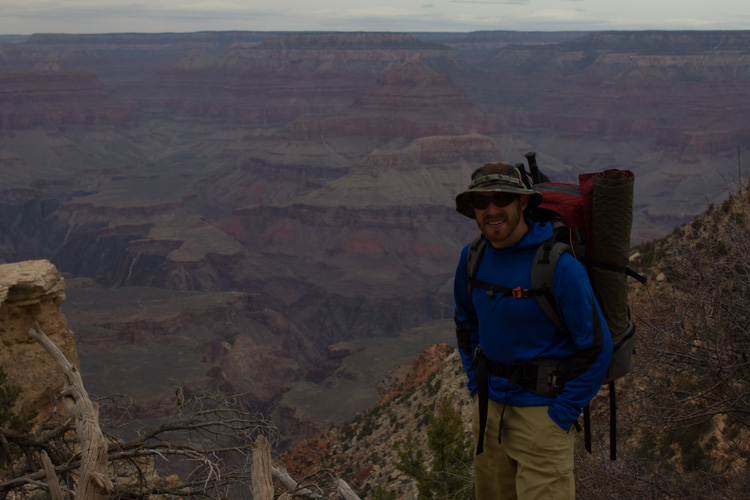 grandest
I slept in a bed for the first time in two months when I spent the night in Springerville, AZ, for a variety of reasons. One of them was to have my truck's alignment restored; it'd been out of whack ever since the rough roads in Big Bend. On a Tuesday, I made my way across some beautiful grasslands in central Arizona, up towards the Grand Canyon.
I spent the night quietly in Kaibab National Forest, then made my way into the Grand Canyon. A short stop in the visitor center directed me to a dedicated building for getting backcountry (below the rim) hiking permits. When I first cracked the door, an enthusiastic ranger named Matt called out from behind the desk, "Dude! Where are you going?" I smiled. "I dunno, whaddya got?"
After almost a week of frustrating near-misses instead of great hikes, this time I was careful to insist that what I wanted was something aggressive and dramatic. Matt threw up his hands at first, telling me that every last campsite down there was booked for the night, before his eyes lit up. "No, wait! You just won the lottery... I had a cancellation ten minutes ago. This is the hike that everyone wants."
He whipped up an itinerary for me on the spot, no ifs, ands, or buts about it. I listened eagerly and asked him gear questions. As he answered them one by one, I got more and more excited... I would not need any of the following:
gallons of water - Plenty of spring water was available in camp. I decided to carry 2 liter bottles and was more than fine.
bear canister - There were ammo boxes in camp to protect my food and stuff from rodents, and there are no bears in the area.
stove, fuel, cooking gear - I was going to carry my two MREs, plus snacks.
tent - The skies would be clear, so a sleeping bag and tarp would be plenty. And it was warmer down in the canyon.
extra clothes - I brought just a couple light layers and changes of socks
All these things resulted in what felt like the lightest backpack I've ever camped out of—by far.
I got started from the visitor center, and walked an extra 2 miles along the rim. There was a shuttle bus that went to the trailhead, but why scurry past such superb views? But I was a little bit worried about pace—I started at about 12:30 and had nine miles to travel, and expected an early sunset. But I knew that I can hike downhill pretty quickly when I need to.
The trail dropped, and fast. As is typical of a major trail in a national park, it was broad and easily passable in both directions, but this one might've had more switchbacks than I've ever seen before. It was a pleasant walk. As I descended, I passed lots of day hikers, and then a few slow-moving day hikers who were also on their way in. I worried about them, because I expected to be arriving late and I knew I was moving fast. But when I woke up in camp the next morning, there they were, so I suppose everything worked out.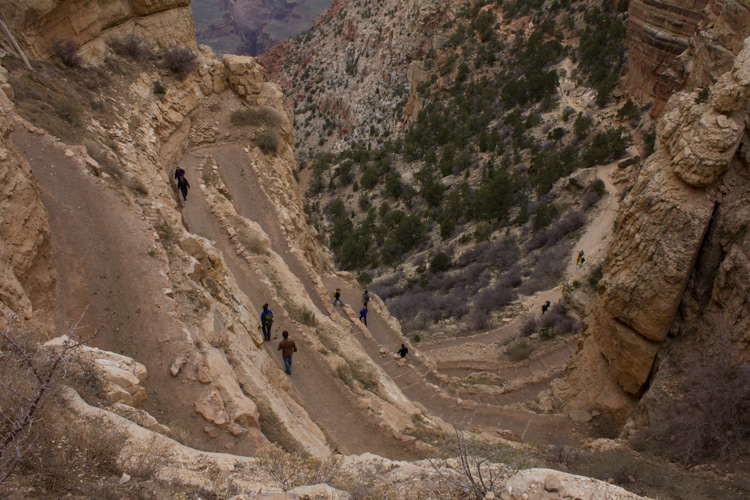 After a while, I lost all the day hikers behind, and finished the descent in solitude. What a spectacle—they don't call it Grand for nothing. It took several hours before I could even see the Colorado river. Finally, I crossed it an arrived in camp at 5:00, about an hour and a half sooner than expected. I "made" a dinner of snack bars, and took a picture of what I had left for the next two days. It's always interesting to try to dial it in so that you have precisely the right amount of food.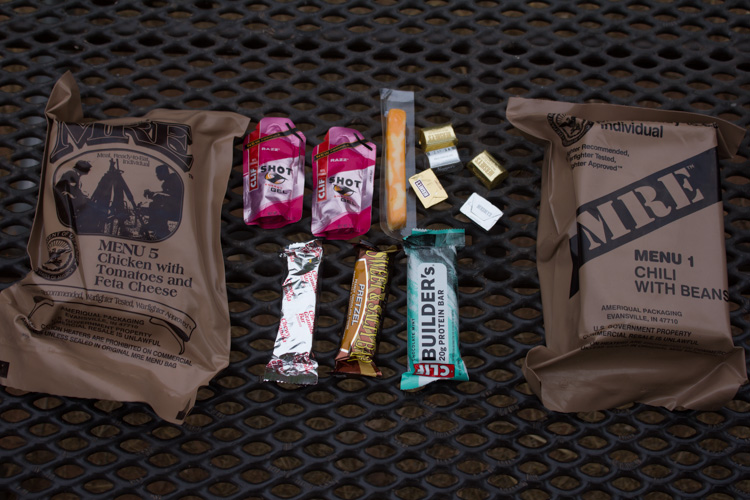 The next morning I chowed down and headed out "late" at 8:20. I wanted to hang around camp, because there was a full restroom there, and I wouldn't expect to see one again for several hours. As soon as I started walking, I rode the wave of calories in my breakfast, and blasted up the trail. Numerous groups had gotten an earlier start than me, but I made it to camp halfway out of the canyon long before any of them. Not that I was racing. But I won. I am the winner.
Since it was still so early after I'd eaten and made camp, I decided to go the rest of the way to the rim and come back down, rather than take the available side journey. I dashed off again, looking for every hiker in front of me and zooming by in a way that had nothing to do with being the fastest dude on the trail that day.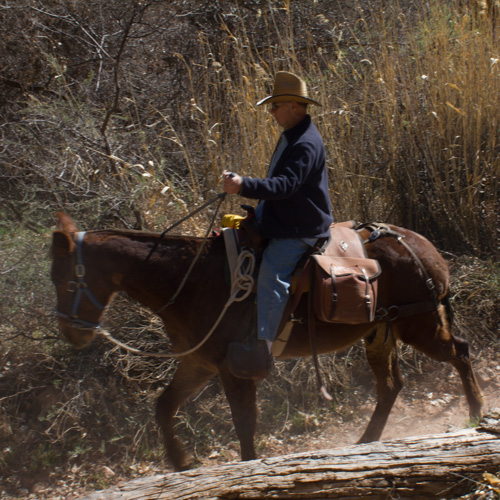 Up ahead, one particular tye-dye shirt eluded me for an unusually long time. When I finally overtook its wearer, I complimented him on his pace. We got to talking, and I finished the rest of the hike with my new friend J. He had just finished a rafting trip and had lots of interesting stories to tell and observations to make. I really enjoyed walking and chatting with him, and he made stout strides. It was interesting to compare our styles; I was prone to nearly running for bursts of a few minutes at a time, and then stopping to drink water and take pictures. By contrast, J was much more moderately paced than I was, but he only stopped once or twice, and even at the more reasonable speed he tired me out. I don't doubt for a second that he'd annihilate me in an actual race... but I'd probably get more pictures!
We "summited" at just after 2:00, about 6 hours after I left the river below, with a little more than an hour at the halfway point and various rest stops. I made another and returned to the trail, descending once again to my new camp about halfway down. As luck would have it, I eyed another speedy hiker, this one in a knee-length skirt, probably the only one I'd seen all day who wasn't wearing long pants. I said hello.
Almost immediately, I learned why she was so speedy: I'd met an off-duty park ranger who was just dropping in to camp, where her husband was working. I couldn't believe my good luck, and chatted with her the whole way down. The time flew by, and I didn't even notice how sore my legs must have been by that point. She knew an astounding amount about the park: geology, history, best practices, rescue stories, the employment process, music, etc., etc. Talking with me must have been like escorting an inquisitive six year old down to camp, but she took it all in stride with a smile on her face. It was wonderful.
Back in camp, I continued to chat with my campsite neighbors, (from the night before, and I'd set up next to them again) a fun party with several photography experts and a couple of rock climbers. Naturally, we were all fast casual friends. At sunset, the shutterbugs all dashed out to catch the good light and shoot star trails; I was content to let them go and talked to wives and girlfriends instead.