previous: grid
next: alabama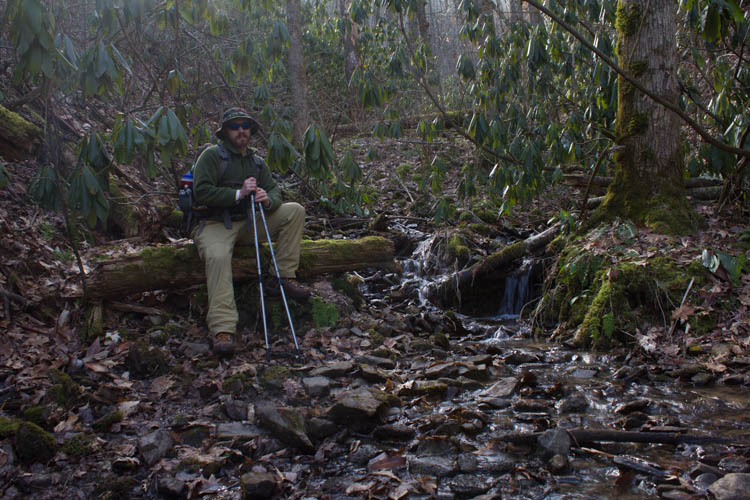 blisters
After a couple more days with my aunt and uncle, it was time to move on. The first destination proper that I'd been planning was a climbing destination called Horse Pens 40, in northeast Alabama. i'd never been there, but back when I started climbing some of my southern friends indicated that it was a good winter spot and stayed warm enough to climb. So I headed towards it, aiming south of Great Smoky National park because on the map the drive looked both more direct and more scenic. And how! I was surrounded by beautiful mountains--how could I pass these up?
So I made my first unscheduled stop of the trip, and pulled in (after some navigational difficulties) to the park. It was late January, and still quite cold at night. In fact, I'd learned in North Carolina that the only way to really manage the cold was to nest my sleeping bags inside one another, which works, but made for pretty difficult movement and logistics getting in and out of bed. But it was COLD. I had been worried about condensation inside the back of the truck, rightly as it turned out; the first morning or two that I was on the road I awoke to an inverted ice rink right above my head, all the way down to the back of my chambers.
Getting out of the sleeping bags was a challenge, mostly because at this point I had warmed them all the way up, but you can't wait for warm weather: up and at 'em!
In the morning, I needed to choose a peak in striking distance from the only campground I could stay at. I simply looked around at what I could see from my site, and then figured out the name of the mountain that looked the biggest. It had a clear trail up, and then I'd have to simply turn around, because there was no practical loop. No problem.
I phoned in my plan and expected return, and hiked up the easy trail that felt like a highway after the ones I'd been on for the last week or so. I decided to start breaking in some new boots, which turned out to bee too aggressive. Both of my heels blistered after a week of hiking happily in my old, trusty boots. Oh well, that's what you get. I was actually glad to make use of the first aid kit I had with me, so it wasn't just dead weight.
The hike itself was pleasant, though fairly unremarkable. With no leaves on the trees, there were better views than I'd get in summertime, but the summit didn't get a trail and didn't seem to be clear up there anyway, so I simply turned around and walked out with my sharply blistered heels getting a little relief on the way down.
Time to move south! It was too cold.